A solid online presence is critical for success in the real estate sector in today's digital world. With more and more potential clients going to the internet to find homes and agents, it is critical for real estate professionals to invest in a well-designed website. In this post, we will look at the benefits of bespoke site design for real estate brokers.
Benefits of Custom Web Design for a Real Estate Agents
Enhancing Brand Identity and Credibility
A custom web design for a real estate agents allows to create a unique and memorable brand identity. By incorporating personalised elements such as logo, colour scheme, and typography, agents can establish a distinct visual identity that reflects their professionalism and expertise. A well-designed website not only builds credibility but also helps in fostering trust with potential clients.
Tailoring Design Elements for Specific Target Audience
Every real estate agent serves individual customers, whether they be first-time homeowners, luxury property investors, or business customers. Custom web design allows agents to adjust the design components of their website to connect with their intended age group. Agents may design a user experience that fits with their clients' expectations by knowing their preferences and wants, resulting in better engagement and conversions.
Optimizing User Experience and Navigation
User experience plays a vital role in retaining website visitors and converting them into leads. A custom Custom Realtor Website allows agents to optimize user experience by designing intuitive navigation, logical information architecture, and easy-to-use search functionalities. By providing a seamless browsing experience, agents can ensure visitors find the information they need quickly, enhancing their satisfaction and increasing the chances of capturing potential leads.
Integrating Advanced Features and Functionalities
Custom web design offers real estate agents the flexibility to incorporate advanced features and functionalities that cater specifically to their business requirements. These may include property search filters, virtual property tours, mortgage calculators, and online appointment scheduling. By integrating such tools, agents can provide an interactive and informative experience to their website visitors, facilitating their property search and decision-making process.
Key Considerations for Effective Web Design
Web design encompasses the process of creating and designing websites, focusing on their visual appearance, layout, and user experience. It involves various elements such as colour schemes, typography, imagery, and overall aesthetics. Web design also considers factors like website functionality, navigation, and responsiveness across different devices. The goal of web design is to create engaging and user-friendly websites that effectively communicate information, drive conversions, and provide a seamless browsing experience for visitors. To create an effective web design, real estate agents should consider the following factors:
Defining Goals and Target Audience
Before embarking on the web design process, it's crucial to define the goals of the website and identify the target audience. Understanding the desired outcomes and the audience's preferences will guide the design choices and ensure the website aligns with the agent's objectives.
Choosing the Right Platform and CMS
Selecting the right platform and content management system (CMS) is vital for efficient website management and scalability.WordPress real estate website is a popular choice for real estate websites due to its user-friendly interface, vast customization options, and extensive plugin support.
Responsive Design and Mobile Optimization
With the increasing use of mobile devices, it is essential for real estate websites to be mobile-friendly. Responsive design ensures that the website adapts seamlessly to different screen sizes, providing an optimal user experience across devices and improving search engine rankings.
Incorporating Effective Visuals and Media
High-quality visuals and media are crucial in engaging website visitors and showcasing properties effectively. Real estate agents should invest in professional photography, videos, and virtual tours to provide an immersive experience to potential buyers. Compelling visuals help create an emotional connection and influence buying decisions.
Do you want to know Why Single Property Websites Matter in Today's Real Estate Market?
Importance of WordPress for Real Estate Websites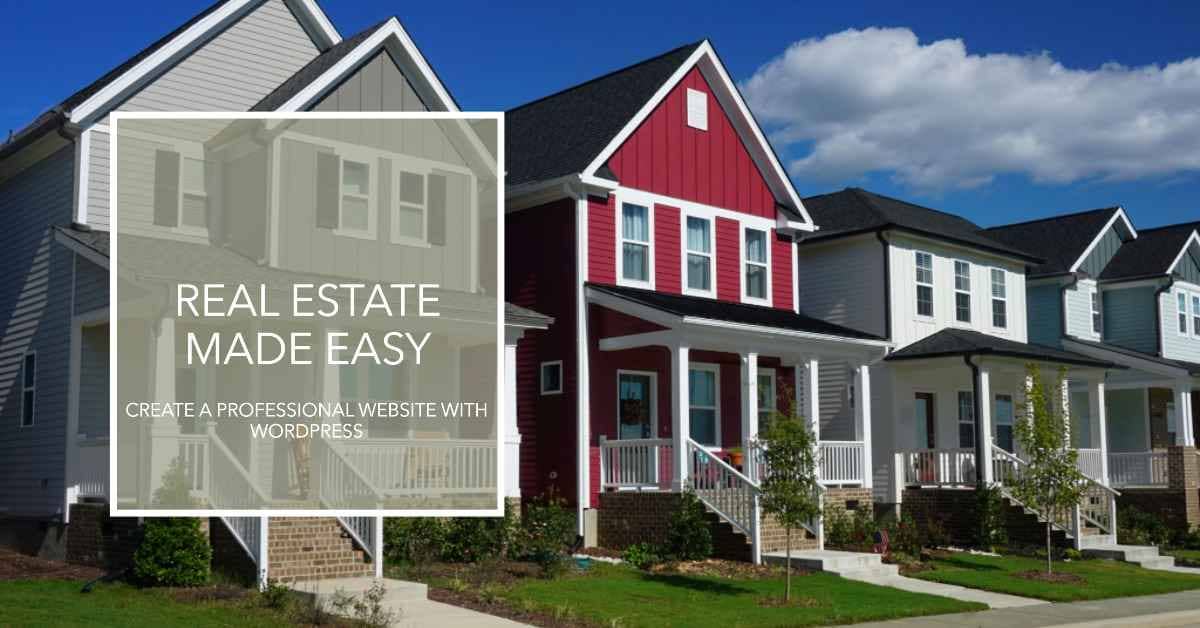 WordPress is a versatile platform commonly used for creating real estate websites. It offers a user-friendly interface, extensive customization options, and a vast selection of themes and plugins. WordPress real estate website enables real estate agents to build and manage their websites efficiently, customize the design, and integrate features specific to their industry.WordPress offers several advantages for real estate websites:
Overview of WordPress as a Website Development Platform
WordPress is a versatile and widely used website development platform that powers a significant portion of the internet. It provides a user-friendly interface, extensive customization options, and a vast library of themes and plugins, making it an ideal choice for real estate agents.
Customization Options and Themes for Real Estate Websites
WordPress offers a wide range of themes specifically designed for real estate websites. These themes come with built-in features such as property listing management, search filters, and map integration. Real estate agents can customize these themes to match their brand identity and create a unique online presence.
Plugins and Integrations to Enhance Functionality
WordPress has a vast ecosystem of plugins that extend the platform's functionality. Real estate agents can leverage plugins to add features like contact forms, lead capture forms, social media integrations, and property management systems. These plugins enhance the website's capabilities and streamline business processes.
SEO Optimization for Better Visibility and Organic Traffic
WordPress offers robust SEO services capabilities, allowing real estate agents to optimize their website for search engines. With plugins like Yoast SEO, agents can optimize meta tags, generate XML sitemaps, and improve website performance, leading to better visibility in search engine results and increased organic traffic.
Conclusion
In today's competitive real estate market, custom web design for real a estate agents is a powerful tool for real estate agents to establish a strong online presence, enhance brand identity, and engage with potential clients. By investing in a well-designed website, agents can effectively showcase their listings, provide a seamless user experience, and ultimately drive business growth.