In the dynamic realm of real estate, establishing and nurturing customer relationships is paramount. The journey from potential leads to loyal clients is heavily influenced by the effectiveness of a real estate website. In this article, we'll explore the intricacies of top real estate IDX website designs and how they play a pivotal role in transforming leads into loyal clientele.
Real estate is not just about transactions; it's about building lasting connections with clients. The first point of contact in today's digital age is often a real estate website. The design of this virtual space can significantly impact how potential clients perceive a business.
Role of Website Design in Real Estate
The importance of initial impressions in any business cannot be emphasized, but it is especially true in fields where trust is important. Real estate IDX website design's visual appeal and usability have the ability to influence a visitor's or client's first impression of the site. In addition to drawing attention, a visually pleasing layout projects professionalism and dependability.
This visual appeal goes hand in hand with the significance of user-friendly website design. A user-friendly navigation system is essential for making sure that users can quickly and easily find the information they need on the website. The material is easier for people to access and understand, which improves their entire experience and helps them form favorable opinions of the product or service. Essentially, a well-designed website plays a major role in creating the trust that is so important in today's cutthroat business environment in addition to acting as a digital storefront.
Optimizing for Leads: Top Real Estate IDX Website Designs
The real estate industry's lead generating environment has completely changed with the introduction of top real estate IDX website designs. This ground-breaking solution is revolutionary because it makes it easier to include Multiple Listing Service (MLS) listings into a website. With this connection, customers may access a broad and constantly updated property database in a smooth and dynamic experience.
The value of Real Estate IDX becomes clear when potential buyers peruse the plethora of listings on these websites. The application greatly increases the possibility of turning leads into profitable customers while also improving the user experience. Top real estate IDX website designs is an important tool in the real estate industry for achieving effective lead conversion since it offers an easy-to-use platform that makes it possible for prospective buyers to quickly and easily browse through a wide range of property possibilities.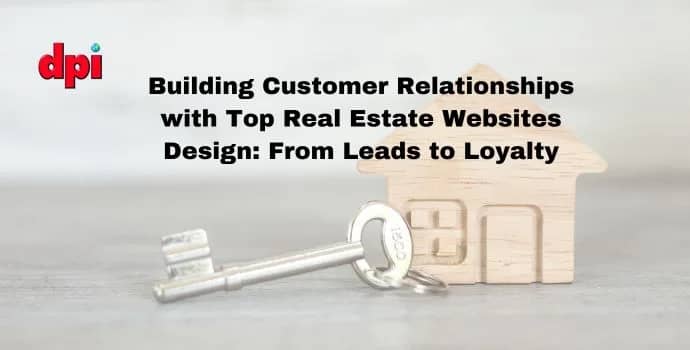 Dpi Property Management: A Case Study
One notable example of an effective real estate website design is Dpi Property Management. Their website is more than just a tool for listing properties; it's a potent way for the business to convey how committed they are to providing excellent customer service. Rather than being purely decorative, the design becomes a tactical tool that is carefully constructed to foster and strengthen connections with clients. In addition to being aesthetically pleasing, the website's well-thought-out features and layout play a crucial role in building strong client relationships. By emphasizing both the display of the property and customer-focused message, Dpi Property Management sets an example for using website design to proactively engage and please their audience.
Utilizing Social Media Integration
Real estate agents need to understand and take advantage of social media's enormous importance in this day and age. The use of social media into website design is a crucial link that connects the online world with prospective customers. Real estate agents may attract attention and drive significant traffic to their websites by creating interesting and relevant material that is shared on social media sites like Facebook, Instagram, and Twitter. In addition to increasing online exposure, this dynamic social media interaction builds genuine connections with a varied audience, laying the groundwork for long-lasting and mutually beneficial partnerships.
Responsive Design for Mobile Users
It is essential to have a website that easily adjusts to a range of devices because mobile browsing is growing in popularity. Realtor Websites With Idx design is essential to guaranteeing that users have a consistent and enjoyable experience whether interacting with a desktop, tablet, or smartphone. This adaptability enhances user experience while also accounting for the dynamic nature of the digital world, where a successful online presence necessitates accessibility across several devices. Top real estate IDX website designs shows a commitment to staying up to date with the rapidly evolving technical landscape in addition to promoting a positive user experience by effortlessly adjusting the look and functionality to the user's device. 
Content is King: Blogging and SEO Strategies
The foundation for attracting and retaining visitors to a website is compelling content. Regularly updated blogs improve search engine exposure while providing consumers with insightful content. Effective SEO strategies may help a website rank well in search results, increasing the chance that prospective customers will find it. In order to succeed online and build a strong online presence and relationships with a wider audience, insightful content and clever SEO tactics work in perfect harmony.
Building Trust Through Testimonials and Reviews
Customer endorsements are an invaluable resource for fostering trust. A business may demonstrate its expertise and build credibility by carefully selecting and displaying good evaluations on its website. This is known as social proof. Being open and honest with prospective customers helps build trust by demonstrating to them the satisfaction that other customers have had with the company's goods and services. Testimonials from satisfied clients act as a persuasive tool, bolstering the company's integrity and reputation in the eyes of potential clients.
Personalization in Real Estate Website Design
Personalization goes beyond aesthetics on the surface. It entails tailoring the user experience to each person's preferences in order to promote a more engaging and relevant engagement. The deliberate use of data to tailor suggestions for properties and content shows a commitment to meeting each client's unique demands. This method not only increases user happiness but also builds a meaningful relationship by showing a proactive dedication to comprehending and meeting the needs and preferences of each individual user.
Measuring Success: Analytics and Customer Feedback
Real estate professionals need to use analytics solutions for continuous website performance monitoring in order to grow and prosper. Moreover, gathering client input is essential to understanding customer preferences and pinpointing possible areas for development. This two-pronged technique gives experts the ability to make well-informed choices, guaranteeing a flexible and adaptable real estate plan that meets client demands and stays up to date with market developments.
Conclusion
The journey from leads to loyalty in real estate hinges on the thoughtful design of a website. Top real estate IDX website designs, social media integration, responsive design, content strategies, trust-building elements, personalization, and data-driven improvements are all integral components. By investing in a top-notch DPI real estate website, real estate professionals can not only attract leads but also foster lasting relationships that lead to client loyalty.