The real estate sector is going through an important change in the current digital era. Modern technology is being used by brokerages and real estate agents to improve client experiences, optimize business processes, and gain a competitive advantage. Integrating real estate website with IDX and CRM is one such potent combo that has changed the game for them. Let's examine the many benefits that this integration offers and why it's important, particularly for brokerages.
What is IDX and CRM?
Let's quickly review IDX and CRM before moving on to the advantages. A real estate agent can use IDX technology to present a thorough and current list of properties on their website that is supplied from the Multiple Listing Service (MLS). CRM, on the other hand, is a technology that supports agents in managing customer interactions, automating activities, and tracking prospects while also offering insightful data for better decision-making.
Benefits of Real Estate Websites with IDX Integration
Enhanced Property Search
Websites become thorough property search canters by integrating real estate CRM IDX interaction for brokerages. Visitors can easily browse listings thanks to this connection, which also helps agents present their portfolios to the best advantage. The user experience is improved by this dynamic feature, which also makes property searches easier.
Increased Lead Generation
A website that has IDX integration gathers leads in an effortless manner, making it simple for prospective buyers to request information about homes, schedule viewings, and sign up for notifications. This causes a steady stream of possible clients for agents, making it easier for them to get in touch with those who are interested.
Improved Client Experience
The user experience is greatly improved by integrating real estate CRM IDX integration. Through the platform, customers can easily customise their property searches by using specific criteria thanks to this seamless connectivity. They may then quickly find properties that exactly fit their tastes, resulting in a more enjoyable and effective property search experience.
Data-driven Decision Making
A mine of user insights is available when IDX is integrated. Real estate professionals use this information to hone their marketing strategies and target the right demographic. Their efforts are laser-focused thanks to precise methods developed from behaviors and preference intelligence, which lead to effective client contacts and effective property advertising.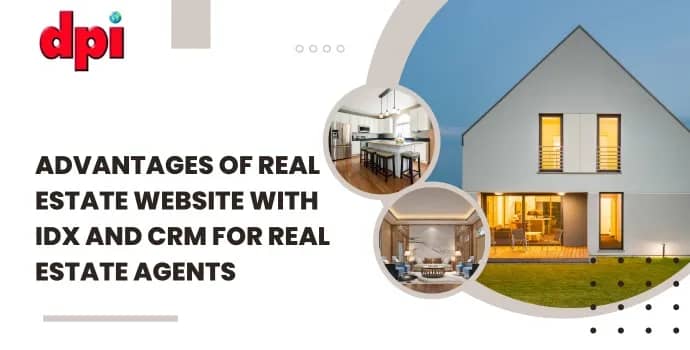 Benefits of Real Estate Websites with CRM Integration
Efficient Contact Management
A CRM system simplifies contact management by enabling agents to effectively retain important customer information, track all contacts, and categorize new prospects, ensuring that no important connections are lost or ignored. The success is ultimately driven by this methodical strategy, which improves customer relationships and maximizes revenue potential.
Personalized Communication
Personalized interactions are improved through CRM integration. Agents encourage clients to participate actively by sending them personalized emails, intelligent follow-ups, and timely alerts. Through enhanced customer interactions and increased engagement, this linkage fosters a feeling of value and corporate success.
Task and Schedule Management
When it comes to agent organization, a CRM system excels at handling tasks, appointments, and reminders. This rigorous planning ensures that no important meetings or follow-ups are missed, allowing agents to work more effectively and effortlessly.
Analytics and Reporting
CRM systems give agents useful analytics and reporting tools, enabling them to assess their performance, track the success of lead conversions, and identify areas for improvement. This data-driven strategy improves performance and efficiency overall, enabling the organization to expand and improve over time.
The Power of Real Estate Website with IDX and CRM for Realtors
When IDX and CRM are integrated, the benefits compound, creating a seamlessly connected ecosystem for real estate professionals.
Streamlined Workflow
By eliminating the trouble of switching platforms, the real estate CRM IDX integration enables agents to easily access listing information immediately. In addition to saving important time, this synergy significantly lowers the risk of mistakes. The integrated system guarantees simple data administration and retrieval, promoting a more streamlined and effective real estate process.
Automation and Notifications
By automating repetitive procedures and sending out timely information, integrated systems are important for simplifying operations. For instance, the CRM system may automatically begin processes like sending a welcome email or allocating a follow-up task when IDX captures a new lead, improving productivity and client engagement.
Comprehensive Insights
Strong real estate website with IDX and CRM is available through integrated systems, fusing client interactions and IDX data from property searches effortlessly. Agents are given holistic insights by this dynamic synergy, enabling well-informed judgements and strategic adjustments. By integrating these essential components, agents may create better client experiences and maximize their real estate endeavors, giving them a competitive advantage.
Why Real Estate CRM IDX Integration is important for Brokerages
For brokerages, the advantages of real estate website with IDX and CRM are even more profound. The ability to provide agents with a unified platform that seamlessly combines property listings and client management tools enhances their efficiency and effectiveness.
By implementing this integration, brokerages empower their agents to:
Manage leads more effectively

Provide personalized services to clients

Coordinate seamlessly with colleagues

Gain valuable insights into market trends
Best Practices for Implementing CRM and IDX
To make the most of this integration, follow these best practices:
Choose a real estate website with IDX and CRM system with seamless integration and a wide range of functions. Make sure it integrates seamlessly and provides effective tools to improve consumer interactions and business processes.

Give your personnel thorough training so that they can use both systems effectively. This gives them the ability to utilize the integrated capabilities to their fullest capacity, maximizing efficiency and production.

Analyze and analyze data from both platforms on a regular basis to carefully improve your marketing and sales strategies. This constant study supports strategic improvements, assuring the best results and flexibility in a changing business environment.
Conclusion
Utilizing technology to its maximum potential is essential for staying ahead in the quick-paced real estate industry. The deliberate addition of real estate website with IDX and CRM is advantageous to brokerages as well as agents. It improves customer experiences, simplifies processes, and offers insightful data for data-driven decision-making. Accepting this integration is not simply advantageous—it is required as the sector develops.