Building a strong online presence has become important to real estate professionals in today's quick-paced digital age. The increased use of mobile devices for real estate searches highlights how important it is to give potential homebuyers a seamless experience. This article explores responsive real estate website templates IDX that are seamlessly integrated with IDX services, illuminating the critical role that mobile friendliness plays in the real estate industry. Agents and agencies must prioritize responsive design as more and more people use smartphones and tablets to browse listings. This will ensure that their websites easily adapt to different screen sizes, provide a user-friendly interface, and ultimately increase their competitive edge in the market.
What is IDX?
Real estate professionals can improve their online presence with the help of IDX, a priceless resource. Realtors can easily display a wide range of available properties on their websites using IDX, giving website visitors the convenience of perusing a variety of listings in a single location. This improves the user experience by streamlining the property search procedure. IDX goes above and beyond simple convenience by acting as a potent magnet that entices visitors to stay on your website longer. This prolonged engagement significantly increases the likelihood of producing worthwhile leads for your real estate company, ultimately promoting its expansion and success. IDX is a crucial tool for remaining competitive and attracting today's discerning home buyers in the digital age.
Importance of Mobile-Friendly Websites
The increasing popularity of smartphones and tablets in the current digital era has completely changed how potential homebuyers search for properties. Mobile devices have surpassed desktop computers as the preferred tool for people who want to view real estate listings while on the go. In this situation, it is critical that your real estate website is mobile-friendly. Google's search algorithms have adjusted to this trend by prioritizing mobile-friendly websites in their rankings. As a result, in an increasingly mobile-driven world, the mobile friendliness of your real estate website can make or break its visibility in search engine results, having a direct impact on your ability to connect with potential buyers.
Responsive Real Estate Website Templates IDX
Modern, user-friendly real estate websites must incorporate responsive web design. These flexible templates effortlessly adapt to various screen sizes, ensuring an attractive and fully functional website across desktop computers, smartphones, and tablets. No matter what device your site visitors use, you can ensure a consistent and simple experience by choosing real estate website templates IDX. By making property listings, photos, and information easily accessible to potential clients regardless of the platform they prefer, this strategy not only improves user satisfaction but also increases accessibility, ultimately increasing engagement and conversion rates on your real estate platform.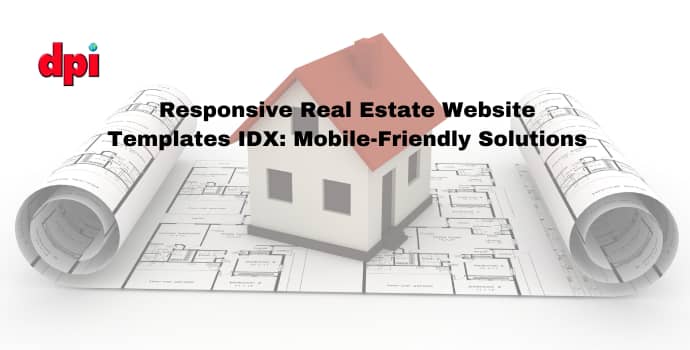 Features of Mobile-Friendly IDX Solutions
The real estate market benefits from mobile-friendly IDX (Internet Data Exchange) solutions for both realtors and potential buyers. These comprehensive tools feature simple navigation and clear property search features that make the home-hunting process simple. They were created with user-friendliness in mind. Additionally, they improve the overall user experience by presenting property listings in a visually appealing way. Beyond these benefits, DPI Realty Website provides a wealth of data insights by tracking user preferences and behaviors'. With the help of this priceless knowledge, realtors can better target their marketing efforts so that they perfectly match the preferences and behaviors' of their target market, which will ultimately result in more profitable transactions.
Realtor Websites With IDX: A Game Changer
In the highly competitive real estate market, realtor websites that seamlessly integrate IDX technology become priceless assets. These websites provide users with a comprehensive set of tools that enable them to tailor property searches to their individual preferences. This greater degree of customization improves the user experience overall and significantly raises conversion rates. Prospective buyers and sellers can easily and quickly find properties that exactly match their requirements, saving them the frustration of having to sift through pointless listings. Realtor websites with IDX play an important role in connecting clients with their dream homes by streamlining the property search process, ultimately driving success and satisfaction in the dynamic real estate market.
DPI Showcase Features
Due to its impressive array of features, DPI Showcase stands out as a top pick among realtors. The mobile responsiveness of this platform guarantees that real estate agents can connect with potential clients on any device. Additionally, thanks to its editable templates, agents can personalize their websites to reflect their distinct brand and taste. DPI Showcase also seamlessly integrates with IDX, which simplifies the process of showing real estate listings on websites. Real estate agents are given the tools they need to effectively market their listings and provide a top-notch user experience to prospective buyers and sellers when used in tandem with DPI Realty Websites.
SEO Optimization for Real Estate Websites
The importance of search engine optimization (SEO) in generating organic traffic for real estate websites cannot be overstated. The success of SEO depends on two essential elements: mobile friendliness and IDX integration. Mobile-friendly websites are given priority by Google and are rewarded with better search results. Another benefit of IDX (Internet Data Exchange) integration is that it enables real estate websites to provide useful, current property listings, which is essential for producing new, relevant content that search engines value. These components work together to improve a real estate website's visibility and draw potential buyers and sellers in the cutthroat online environment.
Conclusion
The future belongs without a doubt to real estate website templates IDX that are seamlessly integrated with IDX solutions in the ever-changing real estate market. In addition to meeting the needs of today's tech-savvy users, who primarily browse listings on their mobile devices, these dynamic platforms also significantly improve SEO performance. DPI Showcase is the top innovator in this field; it changed the rules of the game for real estate professionals. Adopting mobile friendliness and IDX integration is now a strategic necessity rather than an option. It guarantees a top-notch online experience for prospective homebuyers and puts real estate professionals in a position to keep a competitive edge in this quick-moving market.