Real estate marketing has come a long way in recent years. While print media and traditional advertising methods are still popular, an increasing number of real estate idx providers are turning to digital marketing to find and engage with potential clients. With over 2 billion monthly active users, Facebook offers a massive audience for your marketing campaigns. When used correctly, Real Estate Marketing with Facebook can be an incredibly powerful  for generating leads, building relationships, and growing your business.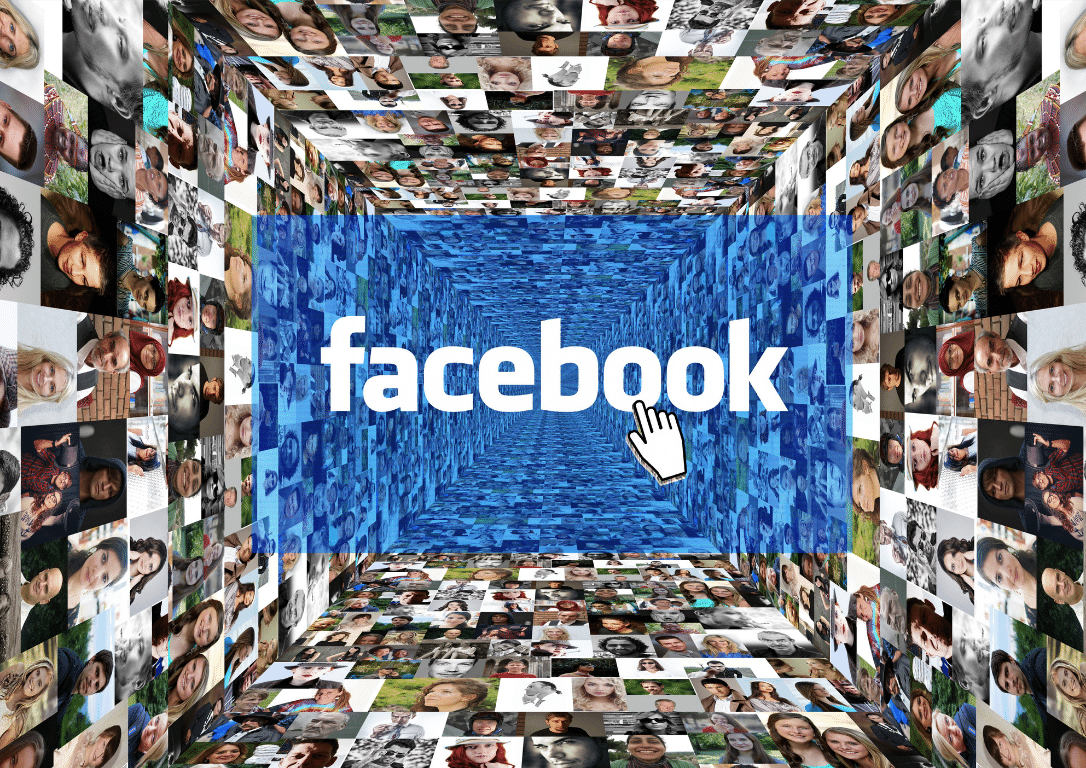 How to do real estate marketing with Facebook?
If you're like most people, you use Facebook every day. You probably have it open right now as you're reading this. And while you may use it to keep up with friends and family, did you know that Facebook can also be a powerful idx solutions for realtors ? In this blog post, we'll explore how to do Real Estate Marketing with Facebook. We'll cover everything from creating your Page to running ads and boosting posts. 
What is Facebook Marketing?
When used correctly, Facebook marketing can effectively reach out to your target audience and create a connection with them. To maximize the potential of Facebook marketing, it is important to understand how the platform works and how best to utilize its features.
The first step in Facebook marketing is creating a profile for your business. This is where you will input basic information about your company, such as your business name, contact information, and website URL. Once your profile is created, you can begin adding content. Content can include anything from blog posts and articles to photos and videos. It is important to regularly update your Page with fresh content to keep people engaged.
Another key element of Facebook marketing is building relationships with potential and current customers. It is also important to respond promptly to any questions or concerns that people may have about your business. By establishing a rapport with your customers, you will be more likely to gain their trust and loyalty.
Finally, one of the most important aspects of Facebook marketing is advertising. You can use the platform's powerful advertising tool to target individuals based on interests, demographics, and location. Advertising on Facebook can be very effective in driving traffic to your custom real estate websites or generating leads for your business.

Why Facebook Marketing is Important for Real Estate
In the past, people relied on word-of-mouth or print advertisements to learn about new products or services. Today, people are more likely to turn to social media to learn about new businesses. This makes it an essential platform for real estate businesses to market their properties and services. There are several reasons why Facebook marketing is important for real estate:
Reach a large audience: As mentioned, Facebook has over 2 billion monthly active users, allowing businesses to reach a large audience with their marketing messages.
Target specific audiences: Facebook allows businesses to target their ads to particular audiences based on interests, demographics, and other factors. 
Generate leads: Facebook can be used to generate leads for your business. For example, you can run ads targeting people looking to buy or rent a property in a certain area.
Increase brand awareness: Facebook marketing can help increase brand awareness for your business. People who see your ads and interact with your content will become familiar with your brand, and this can lead to increased traffic to your Real estate brokerage website.
Real Estate Marketing with Facebook
And what better way to generate leads than using the world's largest social network? With over 2 billion monthly active users, Facebook offers a massive pool of potential leads for your business. But how do you use Facebook marketing for real estate? We'll cover everything from setting up your Facebook Business Page to creating targeted ads that attract your ideal clients. By the end, you'll have all the tools and knowledge you need to generate leads and grow your business with Facebook marketing. So let's get started!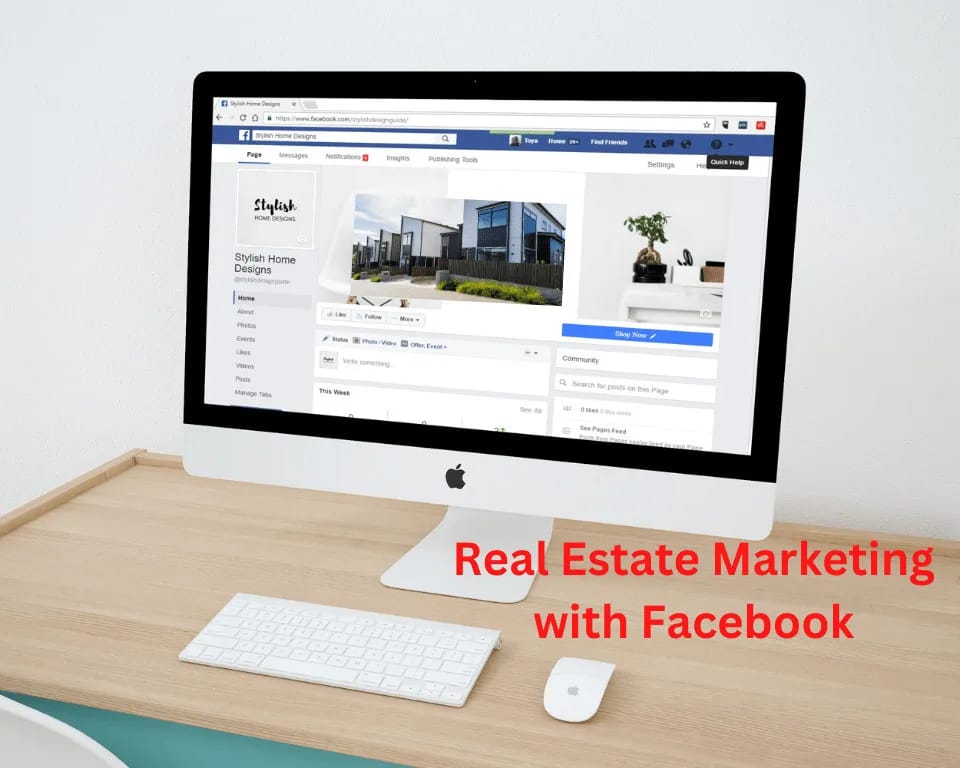 Tips for Real Estate Facebook Marketing
As a real estate agent, Facebook Marketing should be a key part of your marketing strategy. Here are some tips for using Facebook Marketing for Real Estate:
Use Facebook Ads to target your audience.
With Facebook Ads, you can target people based on demographics like location, age, and interests. This allows you to specifically target your ads to people more likely to be interested in your listings.
Use Facebook Groups to connect with potential buyers and sellers.
There are many Facebook Groups dedicated to buying and selling homes.
Use Facebook Pages to showcase your listings.
Your Facebook Page is a great place to showcase your listings. Include high-quality photos and descriptions of each listing, and update your Page with new listings regularly.
Use Facebook Insights to track your results.
This data can help you optimize your campaigns for better results.
How to measure the success of your real estate marketing on Facebook?
Reach: This measures how many people have seen your content. You can find this metric in the Insights section of your Page.
Engagement: Engagement is the number of people who have liked, commented on or shared your post. This metric will give you an idea of how interested people are in your content.
Leads: A lead is someone who has expressed interest in your property by filling out a contact form or calling you directly. You can track leads generated from Facebook by using a unique tracking URL for each campaign, or by setting up Facebook conversion tracking.
Sales: Ultimately, you want your real estate marketing efforts on Facebook to result in sales. Keep track of how many properties you sell as a direct result of your Facebook marketing campaigns, and compare this number to your other marketing channels to see which is most effective.
Kind of content to post on your Facebook page
There are a few different types of content that tend to perform well on Facebook, and it's important to mix things up to keep your audience engaged. Some of the best types of content to post on your Facebook page include:
Photos and videos – People love visual content, so make sure to share plenty of photos and videos of your properties, as well as behind-the-scenes looks at your business.
Industry news – Share news stories about the real estate industry, along with your thoughts and commentary. This helps position you as an industry expert and thought leader.
Local news – In addition to national or industry news, be sure to share local news stories that could impact your target market. This could be anything from a new development in the area to a change in zoning laws.
Tips and advice – Share valuable tips and advice related to buying or selling property, renting vs. owning, remodeling projects, etc. This type of content helps build trust with your audience and positions you as an authority figure.
Promotions – Use Facebook as a platform to promote any special offers or deals you may have going on (e.g., discounts on commissions, free home staging consults, etc.).
How to create a Facebook page for your real estate business?
Go to facebook.com/pages/create.

Select the category that best describes your business – in this case, "Local Business or Place."

Enter your business information, including your Page name, address, single property websites and hours of operation. Be sure to include relevant keywords so that people can easily find your Page.

Add a profile picture and cover photo that represent your brand well. You can use images of your listing, team members, or company logo.

Start sharing content! Post updates about new listings, open houses, recent sales, or anything else that would be of interest to your target audience.

Engage with your audience by responding to comments and messages promptly.

Use Facebook ads to reach even more people with your message.