Building a solid online presence is crucial for real estate agents in the current digital world. Your website effectively serves as your online shop, attracting potential customers and merchants in a crucial way. Utilizing the power of cutting-edge tools is essential if you want to stand out in a market that is becoming more and more competitive. Internet Data Exchange (IDX) plugins stand out among them as a game-changer. Real estate IDX plugin will be thoroughly examined in this article, along with their many benefits, types, ease of integration, and, most importantly, their potential to revolutionize your real estate website and set you apart from the competition.
What is an IDX Plugin?
It's important to have a thorough knowledge of what an IDX plugin is and its importance before moving on to this topic. A technical link called an IDX (Internet Data Exchange) plugin enables real estate professionals to present property listings obtained from their local Multiple Listing Service (MLS) directly on their websites. In essence, it serves as a crucial connector, effortlessly combining your website with the vast database of real estate information available to realtors, increasing your online presence and enabling simplified real estate search experiences for potential customers.
Benefits of Real Estate IDX Plugin
There are several benefits to integrating real estate IDX plugin into your website. By offering a fluid and user-friendly interface, it improves the user experience in the first place. Prospective buyers may quickly look for homes immediately on your website by incorporating IDX, saving you the trouble of having to direct them to other platforms. For real estate agents trying to effectively attract and convert potential customers, this simplified strategy not only stimulates user engagement but also increases lead production.
Types of IDX Solutions for WordPress
The vast array of possibilities offered by IDX technologies allows for a variety of real estate demands to be satisfied. The two main categories of these solutions are basic and comprehensive. IDX solutions for wordpress concentrates on essential features like property search to make sure customers can discover listings with ease. Comprehensive IDX systems, on the other hand, provide a wider range of capabilities, such as lead collection forms to foster client interactions, mortgage calculators for financial planning, and interactive maps for area discovery. To ensure a flawless and effective real estate experience, the secret to success is choosing an IDX system that precisely corresponds with your individual expectations and financial limits.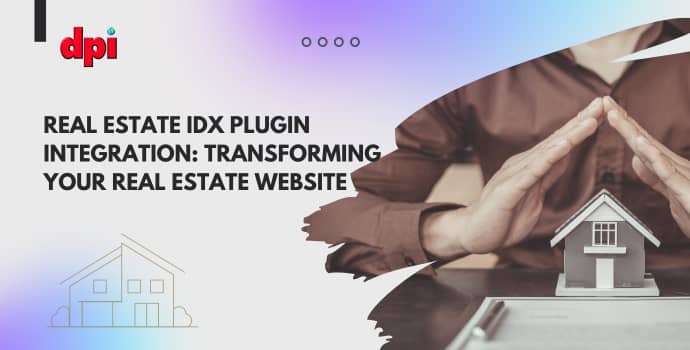 The DPI Showcase
The DPI Showcase is one IDX plugin that stands out from the competition. This robust WordPress plugin comes with a wealth of functionality intended to improve user experience and increase conversions. DPI Showcase is a great alternative for real estate professionals wishing to improve their online presence since it allows you to showcase property listings with high-resolution photographs, thorough descriptions, and adjustable search options.
IDX Plugin Integration Process
It may appear difficult to integrate a real estate IDX plugin into your WordPress website, but with the right guidelines, it can be made simpler. Step-by-step instructions for effectively integrating IDX plugins are provided in this article. You'll be given a clear route to follow from the first plugin selection through the fine-tuning of configuration parameters. This thorough instruction will make sure that you can easily integrate IDX to improve the operation of your website, regardless of whether you are an experienced WordPress user or a newbie.
Maximizing SEO with IDX Integration
Beyond only improving user experience, integrating IDX may also dramatically improve your website's search engine optimization. Your website's users and search engines will have access to a wealth of real estate data if IDX plugins are easily integrated into it. This abundance of real estate listings, community data, and market trends not only keeps visitors interested, but also conveys to search engine algorithms the importance of your website.
We will learn how real estate IDX plugin may enhance the visibility of your website on Search Engine Results Pages as we go more into this subject. Additionally, we'll offer practical advice on how to optimize your content so that it not only appeals to your audience but also appears highly for pertinent keywords.
Enhancing User Experience
Offering user experience is essential in the digital world. It's important to create an online environment that actually connects with your audience in addition to having a real estate website that works. This conversation will go into the IDX integration's revolutionary potential and show how it may be the key to improving the user experience on your real estate platform.
The benefits of IDX integration are endless, making it possible for users to conduct simple property searches that streamline their user experience. Additionally, it encourages mobile responsiveness, a crucial quality in today's fast-paced, mobile environment. By mastering these elements, you'll get the information and resources required to build a website that not only draws in visitors but also keeps them interested, encouraging them to return time and time again.
Case Studies
We will go into in-depth case studies with successful real estate practitioners in order to properly show the significant significance of IDX plugin integration. These instructive real-world examples will act as powerful testimonials to the tangible benefits and successful outcomes awaiting those who choose real estate IDX plugin integration. You may learn a great deal about the significant improvements in website functionality, user experience, and lead generating capabilities that IDX integration can offer to the real estate market by looking at these success examples. These real-world examples will provide you a clear grasp of the revolutionary potential of integrating IDX plugins into your online real estate platform on the basis of empirical research.
Do you know the Importance of IDX Plugins for WordPress?
Conclusion
Your online appearance may be completely transformed by integrating real estate IDX plugin into your real estate website. Along with improving user experience, these plugins help boost your website's search engine optimization (SEO), bringing in more visitors and worthwhile leads. Staying ahead is crucial in today's brutally competitive real estate market. Your real estate website may transform into a dynamic and crucial resource for success by putting in place a well-thought-out IDX plugin and integration technique. Utilizing the best IDX plugins for wordpress may advance your website to the top of the market, giving you the resources you need to succeed in the digital sphere and take the lead in the real estate market.