Real estate professionals must change and accept digital solutions that are in line with the shifting customer landscape as technology continues to transform the way we conduct business. A game-changer for realtors looking to build a solid online presence while providing their clients with a smooth experience is mobile-responsive WordPress IDX websites.
Understanding Mobile-Responsive WordPress IDX Websites
Mobile responsiveness refers to a website's ability to adapt and display content optimally on various screen sizes, particularly on mobile devices. When combined with WordPress, a popular and user-friendly content management system, realtors gain the power to manage and update their websites effortlessly. Additionally, the integration of IDX (Internet Data Exchange) technology allows realtors to showcase up-to-date property listings directly on their websites, creating a centralized hub for property information.
The Significance of Mobile Optimization in Real Estate
In an era where smartphones and tablets are ubiquitous, mobile optimization is no longer a luxury but a necessity. Prospective homebuyers and sellers are increasingly relying on their mobile devices to search for properties, making it important for realtors to deliver an exceptional browsing experience. A mobile-responsive WordPress IDX website ensures that property listings, images, and details are displayed flawlessly, regardless of the device used.
Advantages of Mobile-Responsive WordPress IDX Websites
Enhanced User Experience
A seamless and intuitive user experience is pivotal in retaining visitors and encouraging them to explore further. Mobile-responsive websites eliminate the frustration of zooming in or scrolling excessively, enabling users to navigate effortlessly through property listings and related content.
Improved Searchability and Navigation
Realtors are given powerful search capabilities via IDX solutions for WordPress. According to particular parameters like area, price range, and property type, users may focus their property searches. It is more likely that prospective buyers will find their dream houses thanks to this improved search experience, which also improves customer happiness.
Optimal Viewing on Various Devices
A mobile-responsive design ensures that your website looks and functions impeccably across a range of devices, including smartphones, tablets, laptops, and desktop computers. This consistency in design enhances your brand's credibility and professionalism, irrespective of how users access your site.
Integration of IDX Solutions for WordPress
The integration of IDX real estate WordPress plugins brings an array of benefits to realtors. These plugins facilitate the seamless incorporation of MLS (Multiple Listing Service) data into the website, enabling realtors to showcase an extensive range of property listings. This integration enhances the value proposition of your website by providing accurate and up-to-date property information to visitors.
Harnessing the Power of IDX Real Estate WordPress Plugin
Mobile-responsive WordPress IDX websites acts as a bridge between the realtor's website and the MLS database. This plugin not only ensures that property listings are automatically updated but also provides realtors with the flexibility to customize their websites according to their branding and design preferences.
SEO Benefits and Increased Online Visibility
Mobile-responsive WordPress IDX websites is not only user-friendly but also search engine-friendly. Search engines favor websites that provide optimal user experiences, and mobile responsiveness is a important factor in their algorithms. With the right SEO services, realtors can improve their website's visibility, attract organic traffic, and outrank competitors in search engine results pages.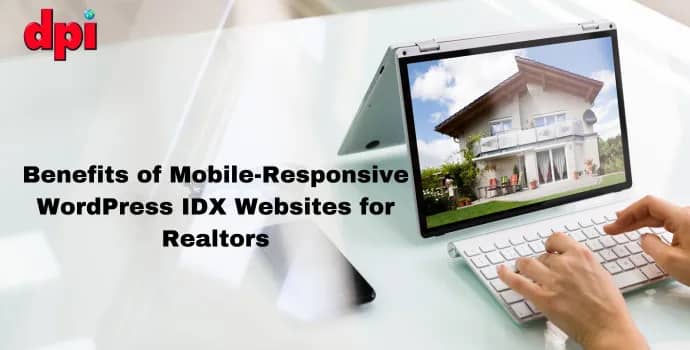 Bridging the Gap Between Realtors and Clients
Instant Access to Listings
Through the use of IDX technology, potential buyers now have easy access to real estate listings on the realtor's website. This simplifies the real estate search process by avoiding the inconvenience of using several sites. This improved user experience not only saves time, but also motivates guests to explore more of the properties that are offered, eventually encouraging deeper engagement.
Effective Lead Generation
Mobile-responsive IDX integration WordPress combines effective lead generation with information dissemination to serve two purposes. These platforms not only offer insightful data but also develop into dynamic tools for lead generation. Real estate agents may gather a gold mine of priceless leads by providing functions like search saving, property alert subscriptions, and enquiry initiation. These leads have the potential to develop into devoted customers with careful nurturing, solidifying the website's value as an essential tool in the real estate agent's toolbox.
Interactive Mapping Functionality
Active mapping features are typically incorporated into IDX solutions so that users may see property locations. This dynamic function turns into an especially valuable asset for buyers searching for properties in certain neighborhoods since it enables them to determine the distances to essential facilities and, as a result, make well-informed investment decisions. The usage of interactive maps not only improves the user experience but also provides prospective buyers with geographic information that has a significant impact on their decision to buy a home.
Responsive Design and Its Impact on Conversion Rates
Conversion rates are greatly influenced by a mobile-responsive design that has been effectively implemented. The probability that visitors will complete desired activities, like getting in touch with you with questions or scheduling appointments to view properties, significantly rises when you offer them a smooth experience when browsing your website, obtaining vital information, and engaging with your content. Positive user interaction strengthens the connection between potential customers and your offers by fostering trust, enhancing usability, and eventually increasing conversions.
Staying Ahead of the Competition with Mobile IDX
Maintaining a competitive advantage in the intensely competitive world of real estate depends on adopting cutting-edge technologies that improve the client experience. Mobile-responsive WordPress IDX websites not only provide a better user experience, but they also position you as a forward-thinking real estate professional capable of satisfying the digital needs of modern customers. These websites enable users to easily browse listings from any device by combining property listings and extensive search capabilities. This promotes a feeling of dependability and knowledge, indicating your dedication to fusing real estate experience with technology and so differentiating you in a tech-driven industry.
Conclusion
Benefits of mobile-responsive WordPress IDX websites for realtors are indisputable. From offering enhanced user experiences and seamless navigation to leveraging the power of IDX solutions and optimizing for search engines, these websites are a cornerstone of success in the real estate industry. By harnessing the potential of mobile-responsive design and integrating IDX real estate WordPress plugins, realtors can establish a strong online presence, engage clients effectively, and thrive in an increasingly digital marketplace. Embrace the future of real estate with mobile-responsive WordPress IDX websites and unlock new opportunities for growth.