With the introduction of digital technology, the real estate market has quickly changed, and for real estate agents, having a strong online presence is now essential. Potential buyers are increasingly using the internet to research homes and obtain information in the digital era. Here, providing IDX websites for real estate brokers with a potent tool to promote their properties and services come into play. We'll dig into the world of IDX websites, examine their advantages, and offer insightful advice for real estate agents to improve their internet presence in this post.
Understanding IDX Websites
IDX websites for real estate brokers serve as a bridge between real estate brokers and potential buyers. They enable brokers to display property listings sourced directly from their local Multiple Listing Service (MLS) on their own websites. This means that brokers can offer a comprehensive array of properties to interested buyers without them having to navigate through various separate platforms.
Benefits of IDX Websites for Real Estate Brokers
Improved User Experience
Visitors enjoy a simplified and simple browsing experience on IDX Websites for Real Estate Brokers. Users will be more satisfied and engaged for a longer period of time since they can easily browse properties using custom criteria like location, price range, and property type. By enabling effective property searches and encouraging good user interactions, these websites are essential resources for real estate agents.
Enhanced Credibility and Professionalism
An IDX website stands as a testament to a broker's tech-savviness and professionalism, underscoring their dedication to furnishing clients with the latest listings and invaluable insights. These Best IDX Real Estate Websites not only bolster trust and credibility but also showcase the broker's unwavering commitment to delivering current, reliable information to their clientele.
Increased Lead Generation
Real estate brokers may carefully gather vital lead data by using IDX websites for real estate brokers. By utilizing IDX integration, these websites allow brokers to demand users' contact information in return for exclusive access to listings and features. Brokers may therefore cultivate a strong clientele through focused outreach and unique engagement techniques, resulting in substantial company growth. This interplay between IDX and real estate broker websites improves user experience while also turning online traffic into a veritable gold mine of prospective leads.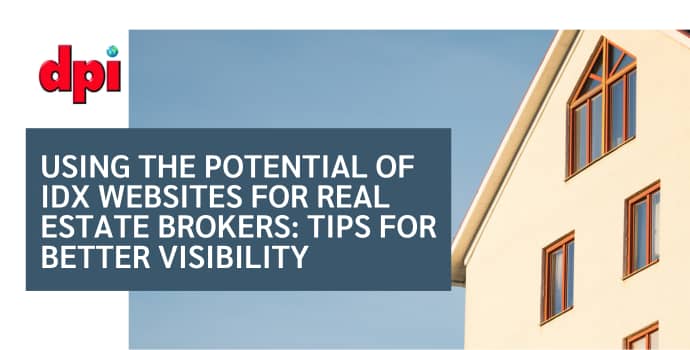 Tips for Optimizing IDX Websites
Choosing the Best IDX Platform
Consider important factors like user-friendliness, the degree of customization possible, and easy interaction with your present website when selecting an IDX platform. Comparing well-known systems like Showcase IDX and IDX Broker is advised in order to find the best option for your company. By assessing these elements, you may be confident that the chosen platform will work well for your unique demands and goals.
Customizing Website Design
Create a website design that matches the core of your business to provide visitors a pleasant visual experience. Create a seamless and attractive digital persona by adjusting the colour, fonts, and layouts. This alignment of design and identity fosters an engaging and long-lasting online presence.
Optimal Property Listings
Make sure the data in your listings is accurate and up-to-date so that you can provide users with trustworthy information. Organize your content well so that users can find it quickly. Improve user experience by adding useful filters and sorting options, improving their search process and helping them to quickly and effectively discover what they need.
User-Friendly Navigation
Crafting an engaging user experience hinges on intuitive navigation, especially for IDX websites for real estate brokers. A well-structured layout, complemented by user-friendly menus and efficient search functions tailored to real estate, ensures seamless exploration. By logically organizing property listings and information, visitors effortlessly find what they're looking for, enhancing their satisfaction. This approach encourages prolonged interaction and higher retention rates, ultimately bolstering the website's appeal and effectiveness for real estate brokers.
Mobile Responsiveness
Given the popularity of mobile surfing, it is essential for your IDX website to prioritize complete device responsiveness. It is important to make sure that your website is mobile-friendly in order to interact with more people. This strategy increases engagement and accessibility while also catering to users using different devices, eventually resulting in a wider audience and happier people.
SEO and Content Strategy
Using the power of search engine optimization strategies to elevate your website's prominence in search engine results. Generate premium, educational content focused on real estate trends, comprehensive buying guides, and localized market insights. By doing so, you not only enhance your website's visibility but also position yourself as an invaluable resource for individuals seeking expert guidance in the dynamic realm of real estate.
High-Quality Images and Videos
Utilize colorful images and captivating films to showcase properties and captivate visitors. A virtual tour of the listings is made possible by high-resolution images, giving potential purchasers a thorough understanding of the listings. These alluring features not only improve the browsing experience but also encourage a closer bond between potential buyers and the homes they're looking at.
Call-to-Action Implementation
Calls-to-action (CTAs) that are carefully placed and engaging can guide visitors towards the intended activities. These can include appealing requests to learn more about homes, sign up for newsletters, or schedule consultations. By intelligently integrating these CTAs across your website, you can improve visitors' experiences while achieving your business objectives by guiding them towards engagement, interaction, and worthwhile conversions.
Analytics and Tracking
Utilize technologies like Google Analytics to assiduously track the success of your website. Analyze user interactions, estimate conversion rates, and glean insightful information for continuing improvements. You can optimize the effectiveness of your website by regularly analyzing these indicators, ensuring that it stays precisely tuned to user preferences and changing trends, and therefore maximizing its impact.
Standing Out in a Competitive Landscape
In a competitive real estate market, setting yourself apart is essential. Leverage your IDX website as a platform to showcase your expertise, share market insights, and provide valuable resources. By offering unique and informative content, you position yourself as a knowledgeable partner in the home-buying journey.
Conclusion
Using the potential of IDX websites for real estate brokers can significantly elevate the visibility of real estate brokers in the digital realm. By selecting the right platform, optimizing design and functionality, and implementing effective SEO and content strategies, brokers can create a compelling online presence that attracts and engages potential buyers. Embrace the power of IDX websites for real estate brokers and embark on a journey toward enhanced credibility, increased leads, and a competitive edge in the dynamic world of real estate.