Success in the highly competitive field of real estate depends on remaining one step ahead of the competition. IDX websites are a useful resource that real estate brokers may use to increase the visibility of their listings to prospective buyers. This post will explain IDX and the importance of real estate agents investing in unique estate websites with IDX functionality. Furthermore, we'll go over the benefits of IDX websites for real estate agents, the essential qualities to look for in an IDX-enabled real estate broker website, and how to optimize these websites for higher search engine rankings.
1. What is IDX?
The technology known as IDX, or Internet Data Exchange, enables real estate agents to display nearby Multiple Listing Service (MLS) property listings on their websites. Potential buyers now have immediate access to available homes thanks to this connection, which guarantees current and accurate information. IDX websites for real estate agents can provide a fluid and dynamic browsing experience to potential homeowners, encouraging better ease and transparency.
2. The Importance of IDX Websites for Real Estate Agents
Having an IDX-capable website has gone from being an optional feature to being absolutely necessary for real estate agents in the competitive real estate market of today. Agents give their clients a smooth and effective property search experience by incorporating IDX, allowing them to easily browse properties. This priceless resource provides agents a definite competitive edge, enabling them to increase client acquisition and retention, improve company processes, and ultimately succeed in the competitive market. Adopting IDX technology is now a must for success in the contemporary real estate market, not just a luxury.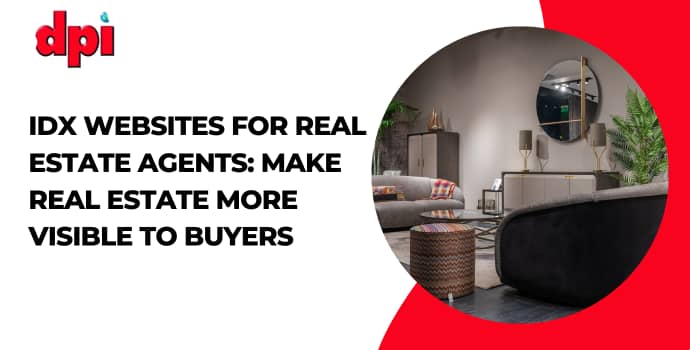 3. Advantages of IDX Websites for Real Estate Agents
3.1. More Visible Listings
Real estate agents may showcase a wide variety of properties directly on their websites thanks to IDX websites. The increased visibility of listings draws interested parties and increases their interaction with the agent's website, which eventually results in more time spent exploring. The way real estate is advertised has been completely transformed by this user-friendly technology, which also effectively links agents with potential customers.
3.2. Enhanced User Experience
IDX websites for real estate agents allows visitors to search for properties easily, apply various filters, and view property details, including images and virtual tours. This enhanced user experience can lead to higher user satisfaction and increase the chances of converting visitors into potential leads.
3.3. Lead Generation and Conversion
With lead capture forms strategically placed throughout the IDX website, real estate agents can collect valuable information from potential buyers. These leads can then be nurtured through personalized communication, increasing the likelihood of conversion.
4. Choosing the Best IDX Real Estate Websites
Selecting the best IDX real estate websites is important for the success of a real estate agent's website. Agents must consider factors like ease of use, compatibility with their current website, and support services provided by the IDX provider.
5. Key Features to Look for in IDX Websites
Real estate agents need to give priority to certain characteristics when choosing an IDX system for optimum performance and user experience. Advanced search capabilities, responsive design for mobile access, quick loading times, easy connection with their website, flexible branding choices, and dependable customer service are essential components.
5.1. Mobile Responsiveness
Totally responsive real estate broker websites IDX are essential in today's mobile-first culture. It ensures a fluid user experience that makes it simple for potential purchasers to explore listings on their smartphones and tablets. Mobile optimization increases accessibility and engagement by ensuring that consumers can easily browse listings across different screen sizes.
5.2. MLS Integration
The MLS must be seamlessly integrated into an effective IDX solution, guaranteeing real-time updates for accurate property listings. Data synchronization is automated, eliminating the need for human changes, ensuring always-up-to-date data. By preventing the display of out-of-date listings, this integration improves user experience and fosters faith in the platform.
5.3. Customization Options
Effective IDX websites for real estate agents allow them to customize the look and feel of their website to align with their branding. Customization options enable agents to create a unique and memorable online presence.
5.4. Property Search Filters
By using modern property search criteria, it becomes easier for potential buyers to find houses that properly match their specific needs. By speeding up the search and matching process, this improved functionality considerably increases the chance that a transaction will be successful.
5.5. Lead Capture Forms
Agents may obtain important details from potential customers using strategically placed lead capture forms, creating a pool of leads for further follow-ups. These forms are essential tools in the agent's toolbox since they make it easier to find and nurture prospective clients, which increases the likelihood that those conversions will be profitable.
6. Steps to Optimize Your IDX Website for Search Engines
Having IDX websites for real estate agents is only half the battle; optimizing it for search engines is equally important. Here are steps to improve your IDX website's search engine visibility:
6.1. Keyword Research
To effectively reach potential buyers in your locality, conduct comprehensive keyword research. Identify pertinent search phrases that prospective purchasers are likely to utilize while seeking properties in your area. This step will enhance your online visibility and boost the chances of attracting the right audience to your real estate listings.
6.2. High-Quality Content Creation
Create attractive community guides and blog entries to attract buyers while displaying your knowledge of the regional real estate market. By offering interesting and helpful material, you build credibility, earn trust, and draw in a larger audience, thus increasing your chances of negotiating profitable real estate deals.
6.3. Page Speed Optimization
In order to provide an outstanding user experience and improve search engine results, a website must load quickly. Quick page loads increase user happiness, lower bounce rates, and encourage greater engagement. Additionally, websites that are optimized for speed have better exposure and organic visitor growth.
6.4. Mobile-Friendly Design
It's essential to thoroughly optimize your IDX website for smartphones and tablets to support the growing mobile user base. The user experience is made smooth, user engagement is increased, and the number of prospective leads is maximized. Prioritize mobile responsiveness and provide a user-friendly experience to stay ahead of the curve.
6.5. Local SEO
Utilize efficient SEO techniques to increase the visibility of your IDX website in local searches. Use geo-targeted keywords and keep your Google My Business page current. Improve your website's search engine ranking and make sure potential clients can find your real estate listings in the area they seek by using pertinent geographic terms.
7. The Future of IDX Websites in Real Estate
IDX websites are positioned to play a significant role in the real estate industry as technology advances rapidly. The introduction of cutting-edge technologies like virtual reality property tours and customized home suggestions is expected to transform how buyers interact with real estate listings by making the experience more immersive and unique. By providing buyers with unmatched experiences, these technologies promise to revolutionize the real estate market.
Conclusion
IDX websites for real estate agents are indispensable tools for real estate agents looking to enhance their online presence and reach a wider audience of potential buyers. By investing in a custom realtor website with IDX capabilities and optimizing it for search engines, agents can make real estate more visible to buyers and stay ahead in the competitive real estate market. Embracing the power of IDX technology will undoubtedly propel the success of real estate agents in the digital age.