This post covers improving your internet presence if you're a real estate agent with a WordPress website. It demonstrates how you may improve your real estate website with the IDX real estate WordPress plugin. We'll go over the capabilities of the plugin, which gives you the ability to optimize the potential of your website. We'll also talk about DPIshowcase, a concept designed to make your website stand out in the crowded real estate industry. This post offers tips for improving the user experience and increasing the number of property listings on your WordPress real estate website.
Introduction
Building a strong online presence is essential for real estate businesses and individual agents in the current digital era. With its variety of priceless benefits, IDX real estate wordPress plugin appears as a game-changing tool in this situation. With the help of this robust plugin, agencies and agents can easily integrate and show current real estate listings on their websites, improving user experience and increasing traffic. It makes it simpler for customers to locate their ideal homes by streamlining property searches. Furthermore, our knowledge and direction guarantee that you fully use this plugin, enabling you to succeed in the cutthroat real estate market of the digital era.
What is an IDX Plugin?
An integral component of every real estate website is IDX. An IDX plugin is the link that easily links real estate listings to your WordPress website. It may also be used to display current real estate listings from your neighborhood Multiple Listing Service (MLS), replete with striking images and thorough descriptions. The main advantage is that customers of your platform can look for properties right there, saving them the hassle of having to search elsewhere. This seamless integration not only enhances user experience but also positions your website as a helpful resource for potential buyers, helping it to stand out in the fiercely competitive online real estate industry.
Benefits of IDX for WordPress
There are several benefits to using an IDX (Internet Data Exchange) plugin on your WordPress website. Above all, it increases the legitimacy of your website by providing accurate and current property information, which makes your visitors feel more confident. It keeps customers interested and makes their search for the ideal home easier by offering an integrated property search and comparison tool, which eventually increases user happiness. This technology not only improves user experience overall, but it also lowers bounce rates, which means that visitors will stay on your website longer and are more likely to locate the property they are looking for.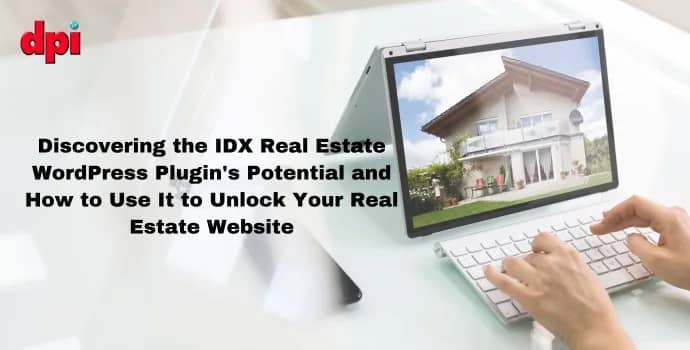 Choosing the Right IDX real estate WordPress plugin
When selecting an IDX plugin for your WordPress website, keep in mind that not all of them are made equal. Before choosing, take into account a variety of factors to make sure it fulfils your demands. Consider factors including compatibility with your website's design and functionality, pricing, support, and update schedule, as well as the degree of customization available. IDX real estate wordPress plugin is highly recommended by real estate agents and website owners due to its remarkable flexibility. Its user-friendly design facilitates the integration of property listings, making it a seamless and profitable solution for people in the real estate industry.
Installation and Setup
It's easy and quick to integrate the IDX plugin into your WordPress website. Get an API key from your MLS supplier first, then make the necessary changes to the plugin settings to make it compatible with your website's style and preferences. After setting up properly, your website will automatically and smoothly retrieve property listings, giving your visitors access to the most recent real estate data. This simplified configuration improves user experience, offers useful real-time data, and eventually helps your real estate website succeed.
Customization Options
It's important to make your WordPress IDX website unique, and the IDX real estate WordPress plugin gives you the tools to accomplish just that. This plugin makes it possible to integrate seamlessly with the layout of your website, guaranteeing a unified appearance. You are free to choose which fields to highlight, adjust search parameters to better suit the demands of your target audience, and write unique property descriptions to add a unique touch. This degree of personalization sets your real estate platform alone in a sea of generic websites, making it recognizable, approachable, and able to convey the spirit of your business and real estate listings.
SEO Optimization
Optimizing's your WordPress IDX website for search engines is essential if you want to take full advantage of its capabilities. Your attention should be directed on improving metadata, carefully adding relevant keywords, and ensuring that your real estate listings have excellent pictures. Giving these items top priority can greatly increase the visibility of your website in search engine results. A website's relevance to user searches may be improved by carefully selecting keywords, and optimized metadata guarantees that search engines can comprehend and index your material more effectively. Superior photos not only draw in prospective customers but also make your website easier to navigate, which improves search engine optimization and makes your website more visible.
Enhancing User Experience
Optimizing's visitor-to-client conversions on your website requires creating a user-friendly interface. This is further enhanced by using an IDX plugin, which guarantees a smooth search experience for your visitors. Potential clients will find it simpler to locate their ideal properties with the help of this robust tool, which provides interactive maps and insightful information on property locations. A key element in deciding how well your website performs is the user experience. An easy-to-use, well-structured interface draws in more visitors and keeps them interested, which raises the possibility that they will become pleased customers who regard your website as a helpful resource for all of their real estate requirements.
Real-Life Success Stories
It is impossible to overestimate the influence of the IDX real estate WordPress plugin on real estate professionals. Success tales from real life experience highlight its incredible potential. Using the plugin, a lot of real estate agents have seen significant increases in leads, conversions, and user engagement on their websites. These endorsements provide strong evidence of the plugin's efficacy and demonstrate how it can revolutionize internet real estate marketing. IDX real estate WordPress plugin is a game-changer for the real estate business, transforming its operations in the digital sphere by drawing in more buyers and sellers and enabling smooth property searches.
Conclusion
IDX real estate WordPress plugin has the potential to transform your real estate website. It's a valuable tool that not only simplifies the property search process for your visitors but also enhances your site's SEO and user experience. If you're looking to stand out in the competitive world of real estate, the IDX real estate WordPress plugin, along with DPIshowcase, is a powerful combination that can make a significant difference.
Incorporate this information and optimize your WordPress IDX website to unlock its full potential. By making the right choice and taking full advantage of this plugin, you'll be well on your way to a successful online real estate presence.