For real estate agents in the modern digital world, developing a strong web presence is important. The increasing competition in the market makes using technology to communicate with prospective buyers and sellers necessary. IDX for real estate websites become a game-changer in this situation, allowing real estate agents to not only exhibit their property listings but also turn website traffic into profitable leads.
Understanding IDX
A full list of homes up for sale may be seen on real estate agents' websites thanks to a technology called IDX (Internet Data Exchange). It is a dynamic technology that pulls current information from the MLS database and easily incorporates it into the broker's website. This implies that website visitors to the broker may receive accurate and current real estate listings without leaving the site.
Key Features of Powerful IDX Websites
User-Friendly Property Search: A powerful IDX for real estate websites provides visitors with an intuitive and user-friendly property search interface. Users can filter their searches based on various criteria such as location, property type, price range, and amenities.
Interactive Maps and Location-Based Search: Integration of interactive maps enhances the user experience. Visitors can view property listings on a map, enabling them to explore neighborhoods and nearby amenities.
Customizable Property Listings Display: Real estate broker websites IDX customize how property listings are displayed on their websites. This includes options for grid or list views, large image galleries, and virtual tours.
Mobile Responsiveness and Accessibility: In the age of smartphones, a powerful IDX website must be responsive and mobile-friendly. This ensures that potential leads can access property information on various devices.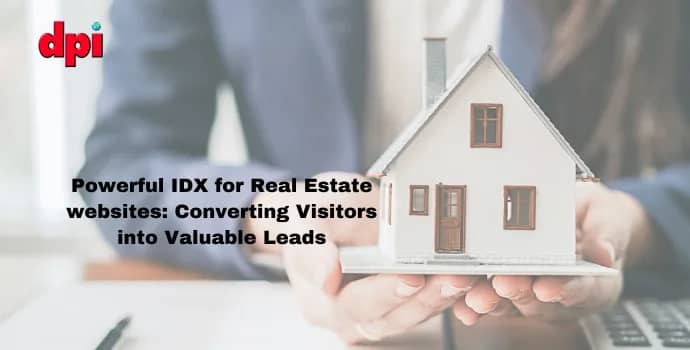 Converting Visitors into Leads
While having an attractive website with property listings is essential, the true power of real estate broker websites IDX lies in its ability to convert casual visitors into serious leads.
Captivating Property Visuals and Descriptions: High-quality images and compelling property descriptions are important for capturing visitors' attention. A combination of vivid visuals and engaging content can spark interest in a property.
Call-to-Action (CTA) Buttons and Forms: Strategically placed CTA buttons, such as "Schedule a Viewing" or "Request More Information," guide visitors to take action. Integrated lead capture forms allow brokers to gather contact information for follow-up.
Lead Capture through Saved Searches and Email Alerts: IDX for Real Estate websites offer visitors the option to save their property searches and receive email alerts for new listings or price changes. This keeps potential leads engaged and informed.
SEO Optimization for IDX Websites
In the digital landscape, search engine optimization (SEO) plays a pivotal role in ensuring your website is discoverable by potential leads.
Importance of SEO for Real Estate Websites: When an IDX website is optimized for SEO, it has a greater chance of appearing in search results, which boosts organic traffic and attracts more prospective prospects. The website's internet presence and commercial prospects are greatly improved by this strategic strategy.
Optimizing Property Listings for Search Engines: Every property listing must be cautiously improved, including relevant keywords, thorough descriptions, and accurate property information. Increased exposure and interaction are made possible by this optimization, which results in more successful real estate deals.
Local SEO Strategies for Real Estate Brokers: Utilizing local SEO techniques, such as adding geo-targeted keywords to your content and creating content that is specialized to a given area, can attract potential leads who are looking for homes in that area.
Choosing the Best IDX for real estate websites
Selecting the right IDX solution can significantly impact lead generation and user experience.
Evaluating Different IDX Providers: Brokers are required to do thorough due diligence and comparisons before choosing IDX suppliers. Making an informed choice that optimizes the quality of property listings and the user experience requires evaluating data veracity, integration potential, and customer support.
Customization Options and Flexibility: The customization options offered by an IDX websites for real estate brokers complement the broker's identity and preferences. The key element is the capacity to adapt layout and design to particular requirements while putting flexibility first.
Integration with CRM and Lead Management Tools: Seamless integration with Customer Relationship Management (CRM) systems and lead management tools streamlines the process of nurturing and converting leads.
Maximizing Lead Engagement
Converting leads requires ongoing engagement and nurturing.
Nurturing Leads through Drip Email Campaigns: Managed fall email campaigns act as a strategic tool by providing important market information, timely real estate updates, and relevant content. This method of nurturing leads gradually encourages involvement and well-informed choices.
Providing Valuable Market Insights and Updates: Potential customers are more likely to trust brokers who are open about sharing market trends and analytical assessments because they portray themselves as knowledgeable authorities. This openness not only demonstrates their knowledge but also builds credibility, which is essential for attracting new prospects.
The Role of AI Chatbots in Lead Interaction: In spite of the time, using AI-driven chatbots enables websites to easily communicate with visitors, quickly handle queries, and collect vital lead data. By ensuring ongoing interaction even after regular business hours, this improves user experience and conversion potential.
Responsive Design and Mobile Experience
The shift to mobile browsing underscores the importance of responsive design.
Importance of Mobile-Friendly IDX Websites: It is of the utmost importance to have a great mobile experience because a sizable portion of website traffic comes from mobile devices. To successfully convert leads and generate successful client interaction, this is important.
Responsive Design's Impact on Lead Conversion: The user experience on an IDX for real estate websites that is optimized for mobile devices is greatly improved, which lowers bounce rates and increases lead conversion rates. The user-friendly layout guarantees a satisfying experience, which eventually increases engagement and productive lead conversions.
Conclusion
In the realm of real estate, where every lead is valuable, a powerful IDX for real estate websites can be the catalyst that transforms mere website visitors into potential clients. Through user-friendly interfaces, captivating visuals, strategic CTAs, and effective lead capture techniques, real estate brokers can utilize IDX websites to their fullest potential. By understanding the importance of SEO, choosing the right IDX solution, and embracing technologies like AI chatbots, brokers can ensure they not only attract leads but also engage and convert them effectively. In this digital age, the best real estate IDX websites strategy is the key to unlocking a world.