Automatically Post Listings to Facebook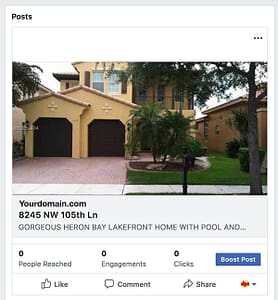 DPI web sites are pre-programmed to automatically post one listing, from the IDX, to your Facebook page every day. The post will show up with a photo and description of the property.
When a viewer clicks on the post it will take them to that listing in your web site.  You can let your friends view this or boost it for more traction.
This is a great way to create traffic to your site and generate leads.
PERSONAL SERVICE
As a Realtor your job is to sell real estate, not to manage your web site.  That is where DPI fits in.  All DPI clients are assigned a personal web designer.  Any time you need to add/delete anything from your site we will do it for you at no additional charge.  We also provide personal training on how to use your site or how to create a marketing plan for getting new leads.  Best yet, this is all included in your monthly hosting.  No charge for edits.  No charge for training.  No charge for coaching.  That is part of our commitment to making you a better Realtor.